Guide To Organise An Incredible Indian Wedding
Make Your Dreams A Reality With Our Straightforward Indian Wedding Planning
Indians make up just 2.3% of the population in the UK, yet they represent roughly 25% of the astonishing 12-billion wedding market.
Indian Wedding Planning: Indian weddings are joyful occasions where the bride and groom's relatives, friends, neighbours, and coworkers gather to sing, dance, and celebrate the joining of two families. Most Indian weddings last several days and include activities like the Ganesh Pooja, Haldi, Mehndi, Sangeet, Wedding, and Reception.
Each event may have a different number of attendees, but with Indian Wedding Planning, the Sangeet, Wedding, and Reception are the main events. An Indian couple gets married after enjoying delicious food, opulent decor, nonstop entertainment, multiple costume changes (during the same day), and lots of enjoyable rites.
At Wedding Chiefs, we are familiar with the traditions and challenges of organizing an Indian wedding. We prioritize guest hospitality because we recognize how important it is for families. We'll take care of your visitors and ensure they feel at home immediately. Making your wedding special, distinctive, and a memorable experience for you and your guests takes a lot of thought and careful planning.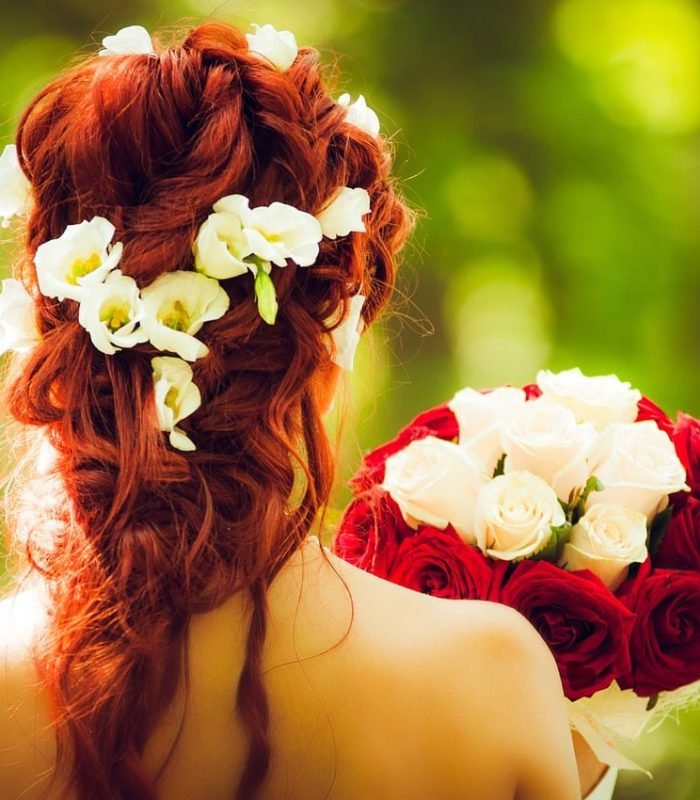 We will give our top picks for Hindu priests, Bollywood DJs, dhol players, mehndi artists, professional photographers, videographers, hair and makeup artists, and Indian caterers in the realm of Indian Wedding Planning. In addition to negotiating with your selected vendors and managing their contracts, we will be in charge of the administrative work.
We will carefully plan every Indian Wedding Planning event for you with rigorous attention to detail once we have confirmed the major vendors and received their deposits. Nothing will be left to chance from the mandap to the table numbers. We will consider everything by designing a simplified, tense experience you will appreciate.
You can view the Indian weddings we've arranged in our portfolio or contact us to learn more about our services.
Our Indian Wedding Planning And Decor Services
Indian weddings can be simple or lavish, but both demand a talented staff well-versed in all facets of culture and wedding customs. We know cultural traditions are important and should be handled carefully and expertly.
For all of your Indian wedding activities, including the engagement (Sagai/Roka), Mehndi, Haldi Rasam, and Sangeet celebration, our design and decor services include mandap hire, mandap decor, wedding stages, centerpieces, and more.
Mehndi (also known as henna), derived from the Sanskrit word "mendhika," refers to decorating a bride's hands with lovely ink patterns on her wedding day. We can arrange decorations for a conventional Indian Wedding Planning Mehndi event or something more lavish!
We provide various options, such as the traditional multi-colored orange, yellow, pink, and green stages with a jhoola or swing and backdrop curtains or draping, along with beds, pillows, Rajasthani umbrellas, fairy lights, and lamps and lanterns in the Moroccan style.
Indian Wedding Planning: Wedding stages are one of the important components of Indian wedding décor as they physically set the stage for the happy couple and serve as a crucial point of interest for visitors. Engagement (Sagai/Roka), Mehndi, Sangeet, and celebration events typically have stages.
We provide an extensive selection of exclusive Indian wedding stages from our collection, which includes stunning traditional, modern, and one-of-a-kind designer options.
We also provide excellent bespoke solutions. In collaboration with your location and the space available, we suggest ways to achieve the ideal balance so that you can manage your function without being distant.
A mandap is a key component of Indian Wedding Planning. Given the importance placed on this element, it is only natural that you would want it to be perfect. We are the leading experts in creating both custom and easily accessible mandaps.
To ensure that the Indian Wedding Planning and wedding mandap perfectly complements all ceremony elements while also having a stunning visual impact that will leave your guests speechless, we consider the theme and your wardrobe when constructing the mandap concept.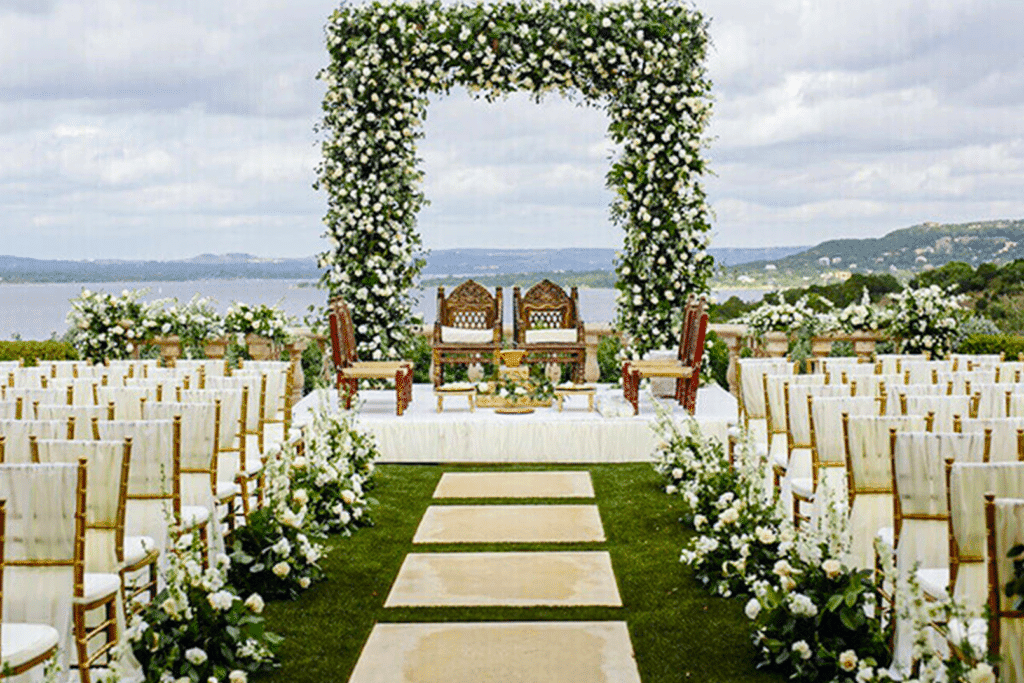 Centerpieces can be as simple or extravagant as you wish, and they virtually always play a part in designing Indian wedding events. Considerations for the type of centerpieces you select should include the venue's style, decor theme, layout, and stationery, if any.
Large-scale fresh floral arrangements in vases or urns, circular flower arches, and cherry blossom trees are a few extravagant centerpieces you can use. Unassuming centerpieces can be clusters of candlesticks, floral arrangements in fragile bottles, crystal candelabras, floral rings, or storm lanterns, to name a few of our options.
No matter what your theme may be—romantic, rustic, modern, traditional, whimsical, or majestic—we can find centerpieces to fit it!
The happy couple is always seated in front of the wedding backdrop at Indian wedding events. This backdrop allows you to show off your partner's individuality and your own.
It can be as elaborate, enjoyable, and carefree as you choose. Curtains and draping are traditional choices for a backdrop, but florals are now more popular. Many backdrops are available, including silk and satin, fitted draping, floral and balloon walls, LED screens, live and green walls, neon and acrylic signage, and much more.
We can ensure your backdrop stands out and creates the mood with our amazing decor expertise.
Marquees are a popular option because they add a carefree elegance. Naturally, we can locate a marquee for you in any size or shape and offer appropriate (or even unique) tables and seats. A marquee setup is our favorite since it provides a blank canvas on which to paint.
With our bespoke service, we have the high caliber talents to ensure that your Indian wedding decor matches your vision, overall decor theme, and venue to create your ideal Indian wedding. To discuss your themes, colors, financial constraints, and preferences, we advise making an appointment with one of our experts.
Call us to schedule your free consultation so we can put together the ideal plan for you.
Our team at Wedding Chiefs is aware that Indian weddings frequently occur over several days and is prepared to accommodate these expectations because we have experience organizing multi-day weddings.
Customers choose to work with us because they seek a large, custom Indian wedding that is successfully organized and delivered. They want their ceremony to blend Indian customs with western aspects.
Our Indian wedding planners guarantee the utmost secrecy and confidentiality in these situations and will do all it takes to ensure that your dream wedding goes exactly as planned. With every Indian wedding we organize, we pledge to offer originality, style, and meticulous attention to every last detail.
The most crucial phase in your wedding preparation process is planning a budget. Create a wedding budget before selecting your attire, location, or decor to ensure you don't go crazy with expenditures.
You can cut costs by hiring a wedding planner. They are masters of wedding-related finances. When necessary, they are skilled at haggling with suppliers to obtain the greatest possible deal overall. They frequently receive trade discounts from businesses with which they have solid ties.