A wedding reception is a celebration held after the ceremony of marriage. It is an opportunity for the newlyweds to celebrate their union with family, friends, and loved ones. The reception typically includes:
Food and drinks.
Music and dancing.
Toasts from family and friends.
Cake cutting.
Bouquet tosses.
Other activities bring joy to the couple and their guests.
This article discusses tips for planning your wedding reception and making it unforgettable.
What Is A Wedding Reception?
It is a special event that celebrates the union of two people. It is an opportunity for family and friends to come together to celebrate the newlyweds and their new life together.
The Purpose
The purpose of a wedding reception is to create lasting memories, honour traditions, and enjoy each other's company in celebration of this milestone. The wedding reception also serves as a way for guests to express their love and support for the couple by offering congratulations, sharing stories, and giving gifts.
The Structure
The reception structure is important in ensuring that it runs smoothly and that everyone has a good time. By understanding the structure of a wedding reception, you can ensure that your guests have an enjoyable experience while celebrating your special day.
The structure of a wedding reception can be tailored to suit any style or taste; however, there are some common elements that most receptions will include. A reception typically includes a cocktail hour, dinner, and dancing.
The cocktail hour is often the first event of the evening and sets the tone for what will eventually be a long evening with dinner followed by dancing in one big party. The mixologist usually makes speciality drinks in the drinks reception and hors d'oeuvres for this event.
The dinner typically consists of a sit-down meal served family-style on large platters and can also include passed hors d'oeuvre trays or buffets. As guests arrive at the reception, they will be welcomed by music from the DJ or spunky band playing, and the first course of food will be presented.
The dancing part of a wedding reception is essential for the bride and groom to share their joy with their guests. The structure of the dancing part should be carefully planned to ensure everyone has an enjoyable time.
The Timeline
The timeline of the evening reception is one of the most important components of planning the event. It determines when each event, such as dinner and dancing, will take place and in what order. It also helps to ensure that all guests have a wonderful time during the celebration. Knowing how to structure a wedding reception timeline can help you create an unforgettable experience for everyone involved.
The Length
The length of a wedding reception is one of the most important considerations when planning your special day. It can determine the type of activities and entertainment you will have and how much time you will spend with your guests. Knowing the average length of a wedding reception can help you plan accordingly and ensure that your reception is an enjoyable experience for all involved.
The Venue
The wedding reception venue is a key factor in determining the event's structure. It sets the tone for the entire event and determines how guests will move around and socialize. Choosing a suitable venue for your wedding reception is essential in ensuring that your guests have an enjoyable time and that everything runs smoothly.
Wedding Receptions In The Western Culture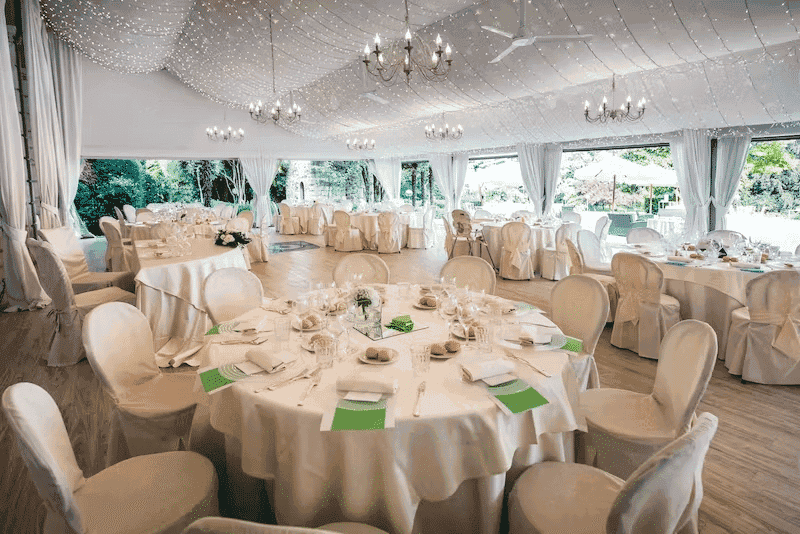 For centuries, Western culture has been known for its extravagant wedding receptions. From the reception location to the decorations and food, every detail is carefully considered when planning a wedding.
The Location
The reception location is one of the most important factors in creating an unforgettable experience for the bride, groom, and guests. The right location can make or break your wedding day and is essential for creating lasting memories.
Whether you're looking for a grand ballroom or an intimate restaurant setting, there are plenty of options to choose from when selecting the perfect venue for your wedding reception.
The Grand Entrance
The grand entrance at a wedding reception is an important part of Western culture. It is the moment when all eyes are on the bride and groom as they make their way into the room to start their new life together.
This is often done with music, dancing, and other special touches to make it a memorable experience for everyone involved. The grand entrance sets the tone for the rest of the reception and can be used to get guests excited about what's to come.
The Food
Food is integral to any wedding reception and is no different in Western culture. The food served at a wedding reception in the West can range from traditional dishes to more modern takes on classic recipes.
From appetizers to desserts, the food served at a wedding reception in the West can vary greatly depending on the preferences of the married couple and their guests. No matter what type of cuisine is featured, one thing remains true: food plays an important role in making a wedding reception memorable for everyone involved.
The Toasts
Close family members or friends usually give a toast, which lasts anywhere from a few minutes to an hour. The toast can be serious or funny, but it should always be heartfelt.
Toasts often include stories of how the couple met, their journey together, and what they mean to each other. By giving a toast at the wedding reception, family and friends can show their love for the newlyweds in a special way that will be remembered forever.
The Dances
In Western culture, the wedding reception is often filled with music and dancing to commemorate two people joining together in marriage.
Dances are an integral part of this celebration, with each dance having its special meaning and purpose. From traditional dances like the waltz to more modern dances like line dancing, each one has its unique way of expressing love and joy on this special day.
The Entertainment
Entertainment at the reception can be an important part of the celebration, providing joy and laughter to all who attend. Your wedding reception should offer many entertainment options, from live bands to DJs. With careful planning and consideration, you can make sure that your guests have an enjoyable time at your wedding reception.
5 Essential Factors To Consider When Choosing Wedding Reception
Choosing the right wedding reception is critical to planning your special day. There are many factors to consider when making this decision, from the venue type to the space's size and layout.
It is important to consider factors such as location, budget, catering options, entertainment options, and other amenities that will help create a memorable event for you and your guests. With careful consideration and research, you can ensure that your wedding reception is one that everyone will remember for years.
Type Of Venue
The type of venue you choose can have a significant impact on how your wedding reception will turn out. It is essential to consider the type of venue that would fit your wedding theme and what emotions you want your guests to feel when they arrive.
Location Of The Venue
Location is one of the most important factors in choosing a venue for your wedding reception. You want to ensure that it's close enough so your guests can easily get there and that it's in an area with good public transportation or ample parking.
Size And Layout Of The Space
When it comes to choosing the venue for your wedding reception, you will have a lot of options. For example, you can choose the size and layout of the space.
Size: The size refers to the number of guests attending your wedding reception. It is important to consider how many people you want to send your wedding invitation to so that your event can be comfortable for everyone. It is also important to consider whether you want a smaller or larger space.
Layout: The layout refers to where the wedding guests are seated and where they are located in relation to each other. The most popular layouts would be banquet seating or round tables with a dance floor in between them.
Catering Options
The decision to choose a catering service for your wedding is an important one. It will be based on your budget and the number of guests you have.
The first factor to consider is whether or not you want to serve food at your wedding reception. If you plan on having a sit-down meal, choose a catering service that serves food, such as caterers or event planners. However, if you plan to serve finger foods, it would be best to hire a company that specializes in serving finger foods.
The second factor to consider is how much time and money you want to spend on the catering service. If the caterer's charge by the hour and have a fixed menu for the day, this may not suit your budget. On the other hand, if they charge per person and offer different menus for each course of the meal, then this may suit your budget better.
Entertainment Options
The entertainment options are just a few things that you should consider before planning your wedding reception. You should consider other factors, such as food options, venue location, etc.
You should be aware of the following factors if you want to make a decision that is best for your guests and yourself.
The type of event you are hosting
The type of people you are inviting
What kind of music and activities do you want at your wedding reception
How much time do you have for planning
Who To Hire For The Wedding Reception?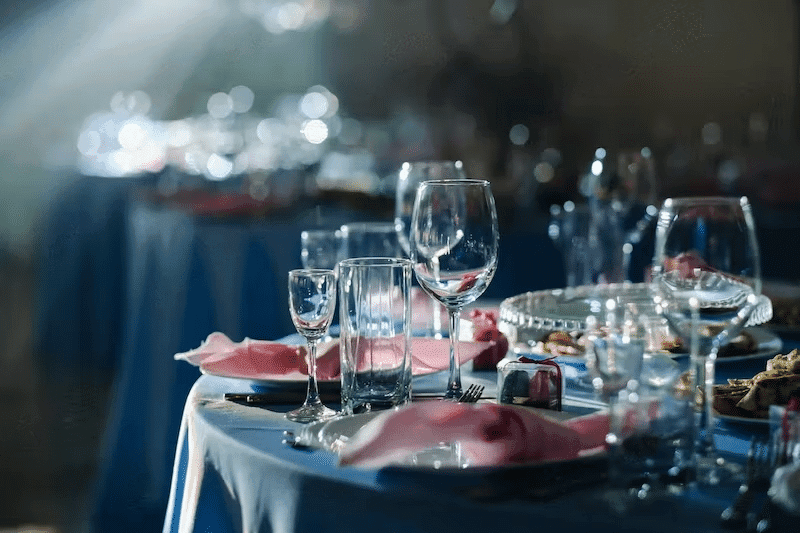 Wedding receptions are typically long affairs that last hours on end. The number of people involved in hosting one can be daunting, especially if you are new to organizing events and planning parties. To ensure your reception goes smoothly, hiring the right people for the job is important.
Different roles need to be filled at a wedding reception – from bartenders to servers and waiters – but there is also a role for someone to help you plan your event: your wedding planner or wedding coordinator.
Conclusion
In conclusion, the wedding reception should be a successful event. Guests should have a great time, and everyone should leave with a positive impression of the event. The event's overall success is always down to careful planning, hard work, and dedication of all staff members involved in making the dream wedding happen.
Was this article helpful? Let us know in the comments.
FAQs
How much does a wedding reception cost?
A reception is a large wedding party with food, drink, and music that follows a wedding ceremony. The reception cost varies depending on the celebration's location and the event type.
A wedding reception can range from $500 to $10,000 or more. Prices depend on the number of guests, the type of food served, venue rental fees, and other factors.
Who typically attends a wedding reception?
Most guests at a wedding reception are friends and family of the bride and groom. However, some people may attend because they were invited or are related to the couple.
The bride and groom's parents are typically in charge of planning the reception. They often invite their children and other family members to help them with planning.
What is the best way to save money for a wedding reception?
The best way to save money for a wedding reception is to plan ahead. One way to do this is by making a budget and sticking with it. Another way is by taking advantage of discounts and deals available in the market these days.
Wedding Planning ahead can help you avoid spending more than you need on your wedding reception, which will help you save more money for other things that matter, like a honeymoon or a new home.