For many women, a wedding is one of the most important days of their lives.. When it comes to choosing a wedding dress, you can be overwhelmed with so many choices on the market that it can be hard to choose one. But let us first narrow it down. There are various types of wedding dress materials available, but lace has been of those that never go out of style.
Wedding lace wedding gowns are one of the most traditional styles out there. Lace represents class, femininity, and elegance. It is a delicate material to work with. However, not all lace wedding dresses are created equal.
Our collection of beautiful lace wedding dresses will inspire your bridal style, it doesn't matter if you're set on a lace gown or need a little more convincing. We have also taken into consideration various venues, silhouette preferences, aesthetics, and price points as well.
Our Top Picks
The Mini Long Sleeve Turtleneck Gown
The wedding gown style is exciting and should serve as an inspiration for your own. It's a gorgeous outfit, and the style gives it a baby girl vibe, so girly women will love it.
V-Neck Short-Sleeve Wedding Gown
You can still have fun by keeping things simple. This style proves that a wedding dress does not have to be dramatic to be worthy of an elaborate occasion. Getting this gorgeous style made won't take a long time.
Body-Con Gown With Flute Sleeves.
This is another beautiful style you should add to your collection. This dress is perfect for all seasons and hugs your body perfectly.
Stunning Fringe Lace Gown Style
Adding fringe to any outfit has always been a great idea, and it is even more evident with a wedding gown like this. It can be used for a classy or elaborate wedding, a birthday party, or any other fancy event.
Beautiful Gown With Cold Shoulders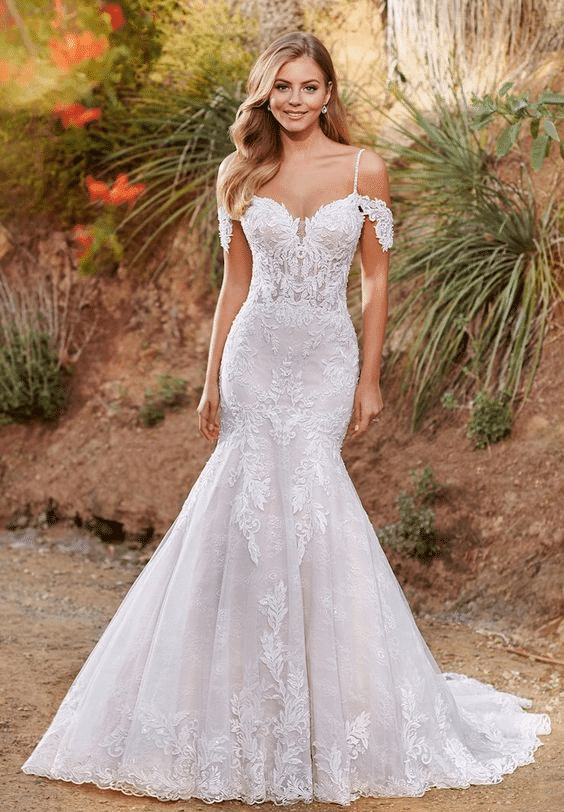 If there is a more appropriate term, astonishing would be the only way to express this. This is excellent for a wedding of any kind.
Fashionable Net Lace Design
Net lace is equally as elegant as conventional lace. You can be creative with this net lace, and the style shown above is one you can try. Fortunately, anyone can pull this look off because it is so effortless.
Skin-Net-Sleeved Dress In Lacy Design
We must all admit that lace fashions certainly have a luxurious air to them. If you are among those who dislike long, flowing gowns, here is something you could like.
Elegant Slit Gown Design
When you find the appropriate inspiration and designer, there is no such thing as a boring style. Although it appears simple, this is one of the lace gown designs that will last for a very long time. It looks both sassy and elegant because to the slit.
V Neck With Sleeve Style
The style of this lace is another perfect example of what lace can do. If you're looking for an elegant yet reserved style, this is for you.
Circular Gown Style With Off-Shoulders
It's hard not to love this off-shoulder outfit. There is something cool and classy about this for weddings.
One Shoulder Gown Style
Certainly, this is exotic and fascinating in its own right. It's true that the lace adds to the glamour, but the style stands out even more.
Exotic Lace Style With Cape
With an outfit like this, you are going to enjoy getting all the attention of the guests. There is no doubt that it makes one stand out from the crowd.
Net Sleeve With Bold Slit
One word comes to mind when looking at this style: stunning. There is no doubt that this outfit is extremely good for weddings.
Straight Gown With Puffy Sleeve
This gown comes in a combination of lace and material and has a puffy hand with an all-over dripping effect. It's perfect for brides who love to show elegance but still be comfortable in their skin.
Short Lace Ball Dress
In a short ball gown with full pleating, you'll look just like a real Barbie doll wearing a ball gown.
Off-Shoulder Gown With Feather Design
This simple gown design has a bit of feather on the sleeve, plus its straight and flowy so you don't have to worry about tripping on the hem.
Straight Long Dress With Thin Strap
This is what I would call a dress that is the life and soul of every party. It looks so comfortable with zero stress to wear it.
Side Slit With Lace Design
In this long-sleeve gown with a side slit, you will surely look amazing. You can add personality and style with hand-beading in the design.
Sleek Lace Gown Style With Ruffle Bottom
There is no doubt that this lace gown style is both gorgeous and fashionable. Depending on your personal preferences, you can style this top with any sleeve that you like.
FAQs
What is the price of lace fabric?
Because of its complexity, the lace fabric is often quite expensive, especially handmade varieties such as needled lace. Lace, like other fabrics, is priced differently depending on how it was manufactured and the materials used. Silk lace is the most expensive, cotton and linen lace is in the middle, and synthetic lace is the most economical.
Which types of lace should I know about?
There are different types of lace on the market. These include;
Crocheted lace
Bobbin lace
Knitted lace
Cutwork
Needle lace
Tape lace
Chemical lace
Sheer lace
Fully patterned lace
Corded lace
Beaded lace
Limerick lace
Where does lace come from? How is it made?
Silks, linens, and precious metals were the main materials used to make lace from the 16th century onward. It is now possible to make lace from a broad selection of fibres, ranging from silk and cotton to linen and rayon.
Here are four ways to make lace:
Lace was created using bobbins
The crocheting technique
Lace made with needles
Lace made by tatting