Have you ever attended a wedding and thought: "Who is behind this masterpiece?" Well, wonder no more because we'll be giving you tips on how bridal consults and wedding planners go through the production process – with an insight on how to become one of them.
If you want to create or update your wedding planning skills, a bridal consultant and wedding planner is the perfect way to start. But first, let us define the two.
The Difference Between Bridal Consultants And Wedding Planners
When people think of wedding planners, they typically think of bridal consultants. While bridal consultants can be a great resource for wedding planning, there are some important differences that you should be aware of when selecting one.
A bridal consultant will help the bride with wedding planning from the get-go. This means they'll have experienced designing weddings and can provide advice on everything from location to flowers.
On the other hand, a wedding planner typically works with one bride and her husband for specific events (like getting married). They won't have any previous experience planning weddings and will likely rely more on their gut feeling than anything else. So, which one should you choose?
How To Become A Certified Wedding Consultant
Find Your Niche
Finding your niche as a wedding consultant can be difficult, but it's important to take the time to figure it out. You need experience regarding weddings to offer the best services possible.
There are many different types of weddings, so there is something for everyone. If you feel you fit into a certain niche, focus on that and develop your skills accordingly. It'll be worth it in the end.
Establish Professional Networking Relationships
As a certified wedding consultant, you must establish professional networking relationships with other professionals. Doing so will help you develop relationships with potential clients, gain access to resources, and build valuable contacts for future wedding planning business opportunities.
To achieve this goal, it is important to develop a network of people who share your interests and who can provide you with valuable insights and advice. It is also important to be well-connected in the wedding industry so that you have access to the best resources available.
Attend Bridal Shows
A bride consultant job can allow you to meet as many potential brides as possible and get valuable tips and advice on finding the perfect wedding gown. However, research before you take the plunge and hire a bride consultant.
You will learn about the different types of consultants who work at these shows. After all, if you only have one option for getting advice on finding the perfect wedding gown, it would be best not to bother!
How To Become A Certified Wedding Planner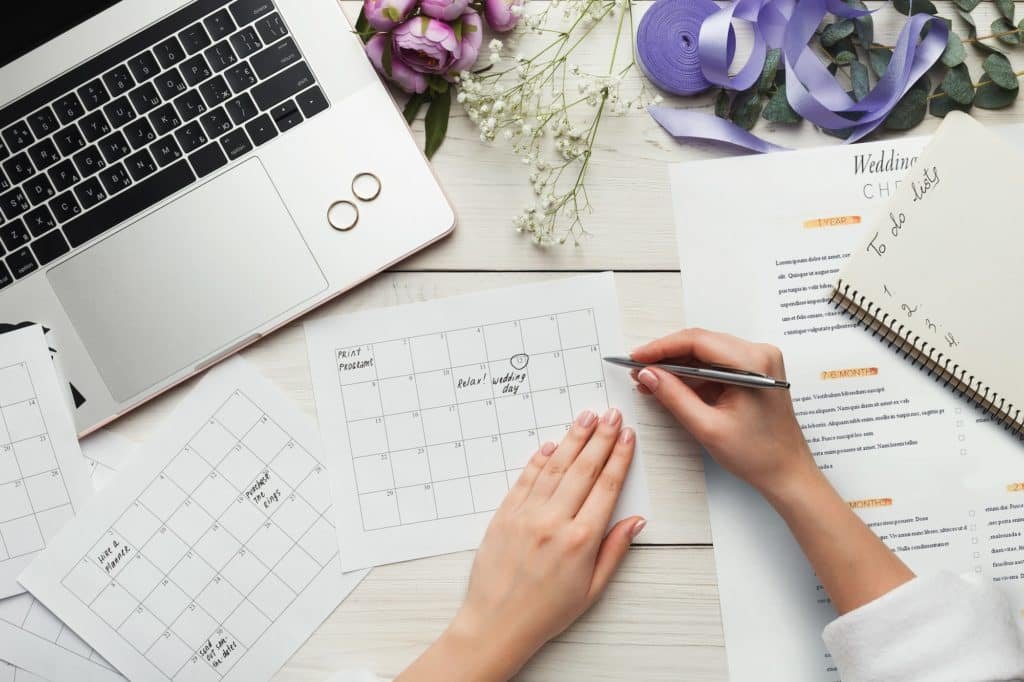 Work With A Mentor
If you want to be successful as a professional wedding planner, working with a mentor is a great way to start. They can also provide new ideas and perspectives on wedding planning. The right mentor is within reach.
Create An Online Brand And Presence
Create an online brand and presence to be a wedding planner. Wedding planners are essential for any big event and can make or break a wedding. You must create a stellar online presence so your clients know who you are, what you offer, and what makes you different.
There are many ways to do this, but some basic steps include creating an online portfolio, setting up an email list, and building an Instagram account. When designing your website, ensure it is professional looking and easy to navigate.
You should also consider using social media platforms like Facebook and Twitter to build relationships with potential clients. Ensure your website is updated regularly with new content so customers can stay informed about your services and see how you're growing as a wedding planner.
Find The Tools You Need To Be A Successful Wedding Planner
Lastly, you'll need to have the right tools. Here are some tips to help you get started:
1. Get organised: Before planning your wedding, it's important to be organised. Obtain a planner and start organising your photos, guests list, and more. This will make it easier when it comes time to start planning the event!
2. Focus on quality over quantity: It's important not to go into planning, thinking you'll need all the tools listed below. Start by ensuring that you have high-quality tools for your event. If you can't find what you need at a good price, buy them all!
3. Use online resources: Online resources are an important part of any event planner's arsenal.
Conclusion
There is no one "right" way to be a successful wedding planner. However, there are a few key things that you must do to become one.
First, you must have a strong work ethic and be dedicated to your job.
Next, you will need to be knowledgeable about wedding planning and be able to provide helpful tips to couples.
Finally, you will need great organisational skills to keep track of all the necessary paperwork and convention schedule.
Was this article helpful? Let us know in the comments.
FAQS
What can I study to become a bridal consultant?
Most bridal consultants work independently, so getting a business administration, management, or marketing degree makes sense. Include fashion-related courses as well.
If you are interested in wedding planning or event management, your education will focus on those elements. Many courses can help you prepare for a bridal consultant.
How to become a bridal consultant or a wedding planner?
There are a variety of ways to start working in wedding planning. Many programs and schools offer degrees in wedding planning. You can also find job postings on websites.
How does a professional wedding planner get first clients?
There is no one answer to this question, as wedding planners vary in their methods and approaches. However, some commonalities among event planners include working with clients directly, managing multiple projects simultaneously, and using online platforms to connect with potential customers.