Wedding cakes are a popular way to celebrate weddings. There are many different types of wedding cakes, including traditional wedding cakes, tropical wedding cakes, and even groom's cakes. A wedding cake can be made in various flavours, including classic vanilla, chocolate, strawberry, and red velvet. Some wedding cake flavours are also gluten-free or dairy-free.
List of Wedding Cake Flavours
There are countless wedding cake flavours, and no two weddings are the same. Some couples prefer a classic flavour profile, while others may want something unique. To make sure you get the flavour you're looking for, here are some of the flavours that will suit your wedding theme:
Chocolate Cake
Chocolate is widely considered the best traditional wedding cake flavour. A chocolate sponge cake paired with chocolate buttercream will surely get a positive response from your guests. Couples who choose to have chocolate as their cake flavour can enjoy numerous benefits of this sweet treat. These include a sense of intimacy and romance and creating a festive and memorable event. It is also rich in antioxidants which are said to improve health overall. Moreover, chocolate can also add a touch of sophistication to any wedding cake.
Vanilla
Vanilla is the most popular traditional wedding cake flavour. Sometimes this is paired with a white chocolate ganache to add extra spice to a traditional wedding cake. There are many reasons why vanilla is a great choice for a wedding cake: it's sweet and flavourful, so it can be paired with many different types of icing and frosting; it's not too heavy or dense, so it can be served without feeling weighed down, and it goes well with other flavours so that you can create plenty of unique variations. Plus, vanilla is much beloved by both bride and groom alike – so guests will love enjoying a slice of this classic cake on their special day.
Blueberries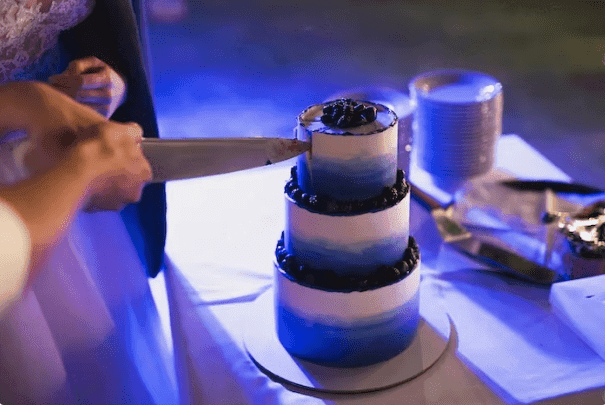 When it comes to a wedding fruit cake, blueberries reign supreme as the best fruity flavour; they taste great and offer several benefits that can make your big day extra special.
Blueberries are high in antioxidants and vitamin C, which can help protect against cancer and other diseases. They're a good source of fibre and protein, which can help regulate blood sugar levels and provide satiety after eating. They're also packed with antioxidants, which can boost your immune system and keep you healthy. Finally, blueberries are a delicious way to show your guests that you care about their taste buds – many people find them one of the most flavoursome fruits out there!
Raspberry Lemon Cake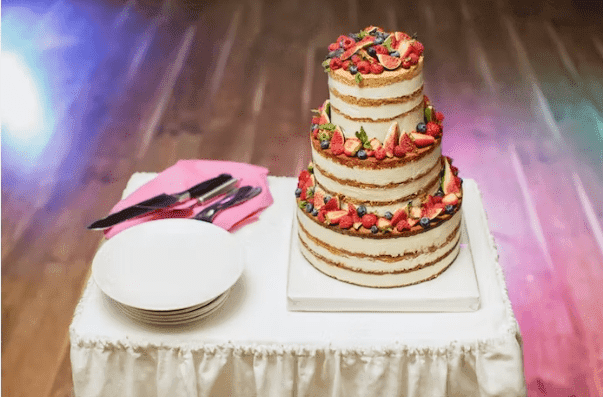 Raspberry Lemon Cake is the top contender. This classic flavour combo is perfect for a fun and whimsical wedding theme. A bright raspberry jam frosting with a delicious lemon curd filling makes this cake a crowd-pleaser. The tart lemon flavour pairs perfectly with the sweetness of raspberry buttercream, resulting in a delicious cake.
Not only does this flavour combo make for a lovely cake to eat, but it also has some great health benefits. For one, the raspberry lemon curd is high in Vitamin C, which can help prevent colds and other infections. Additionally, raspberries are a good source of antioxidants which can fight against diseases such as cancer.
Strawberry Cake
Strawberries are the perfect fruit for summer weddings and pair well with other popular summer flavours like blueberry and peach. This cake is simple but delicious, with a fluffy vanilla buttercream frosting and layers of strawberries between the cake layers. Strawberry cake is healthy too! Not only is it delicious, but it's also packed with antioxidants and vitamins. Plus, it doesn't contain any sugar alcohol, which can affect your blood sugar levels.
Mangoes and Mango Creams
Mangoes are a delicious tropical fruit and make for a beautiful and mouth-watering wedding cake flavour. Mango and mango cream with caramel sauce are a classic pairing that goes perfectly together. Blend some fresh mango chunks into your cream cheese mixture for a refreshing take on this classic flavour combination. They provide benefits such as being good for your brain and keeping your skin healthy; they taste great! Mangoes are also a sustainable fruit, meaning they don't need to be imported from far away and can be easily grown in warm climates.
Papaya and Creamy Frosting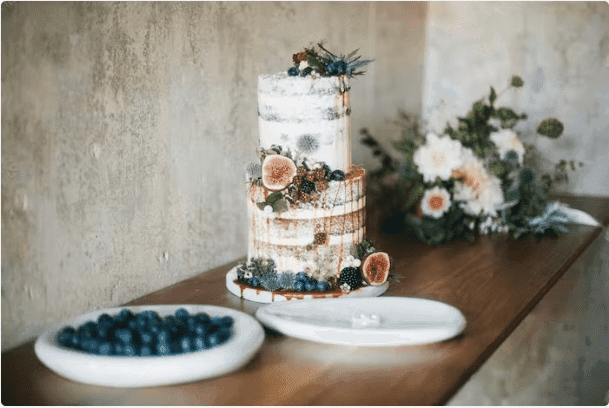 When it comes to tropical fruit flavours for a wedding cake, papaya reigns supreme. Add a little heat to your wedding cake with papaya frosting. This frosting is made with papaya juice, cream cheese, buttercream, sugar, and vanilla extract – making it slightly tangy and sweet. Not only does this fruit have a sweet and sour taste that is perfect for wedding cakes, but it also has many health benefits. For example, papaya is high in vitamin C, which is important for keeping your immune system strong.
Additionally, papaya is a good source of potassium which can help you maintain healthy blood pressure levels. Finally, papaya is low in calories and has no cholesterol, so everyone at your wedding can enjoy it without worrying about their weight or health. When choosing a tropical fruit as the main flavour for your wedding cake, don't forget papaya!
Cherry Blossom
Cherry Blossom is the perfect floral wedding cake flavour for those looking for something unique and memorable. Not only does it taste great, but its benefits are also worth noting. Firstly, Cherry Blossom is a natural source of antioxidants, which can help boost your immune system. Plus, it has a sweet and delicate taste that pairs well with many types of cakes and desserts. It has a beautiful pink and white bouquet that makes for a stunning centrepiece or table decoration. Lastly, Cherry Blossom is said to bring good luck to those who eat it! If you're interested in using this flavour for your wedding cake, be sure to ask your caterer about possible options.
Petunia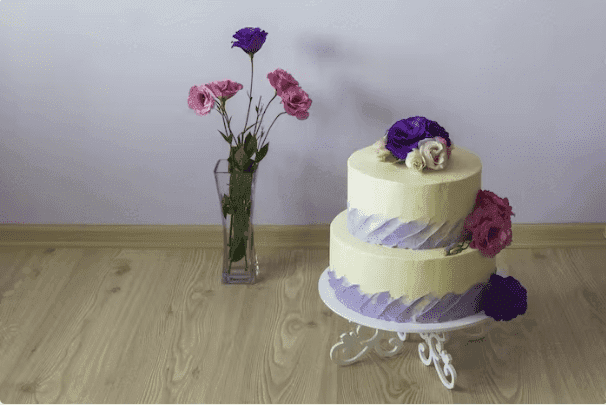 Petunia is a flower that has a sweet taste, making it the perfect floral wedding cake flavour. The benefits of using petunia as your wedding cake flavour include that it is a delicate flower with a unique aroma, meaning your guests will be unable to resist trying some. Additionally, petunia flowers are easy to find and relatively inexpensive, making them an affordable option for those on a budget. Finally, petunia flowers are available in most florists' shops, so you can easily find what you need to make your wedding cake look sweet and beautiful.
Raspberry Swirl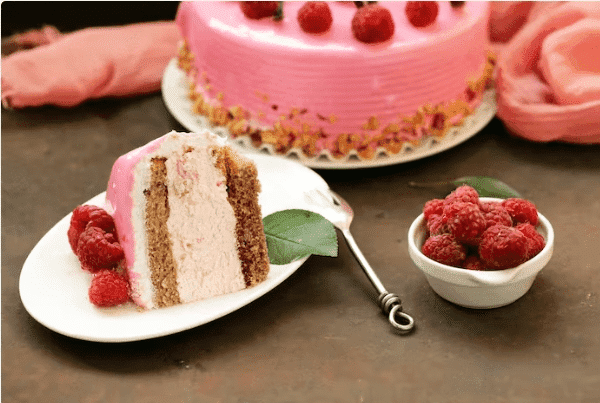 A delicious raspberry swirl at the top of your wedding cake can be a memorable and tasty addition. Raspberry swirls are often considered a flavour for children's birthday cakes, but adults can also enjoy them. Benefits to choosing raspberry swirl as your wedding cake flavour include that it is sweet and fruity, which will appeal to many guests. Additionally, raspberry swirls have a distinctive pink hue, which will help set them apart from other wedding cake flavours.
Conclusion
Wedding cakes are a unique and memorable way to celebrate a special occasion. Whether it's a small wedding or a large event, a cake is always sure to please guests.
It is important to decide what type of cake you would like for your wedding. If you are having a small, personal ceremony, then a simple cake may be all that is necessary.
However, if you are having a large wedding with many guests, choosing a more elaborate cake might be more appropriate. There are so many beautiful cakes to choose from that it is easy to find one that perfectly matches your wedding theme and style.
There are many factors to consider when choosing a wedding cake. The most important thing is to find the cake that will fit the personality and style of your wedding.
Was this article helpful? Let us know in the comments!
FAQs
What's the Most Unusual Wedding Cake Combination?
Many couples looking for a unique wedding cake combination may be surprised to find that a meringue and cream cheese frosting is not the most unusual. In fact, many wedding cake combinations that would initially seem outlandish have historical precedents. For example, one couple in Oregon proposed to each other with a wedding cake made of hundreds of crushed-up Oreos mixed into their batter. Another couple in California created a pink and green wedding cake out of whipped cream and strawberry yoghurt.
What Wedding Cake Flavor is the Most Popular?
When it comes to wedding cake flavour preferences, many couples gravitate towards something sweet. According to a recent study, the most popular wedding cake flavour is any chocolate, like white chocolate with dark chocolate ganache; next is vanilla cake, followed by strawberry.
Is wedding cake different from regular cake?
Wedding cakes are typically sweeter than regular cakes, it's also customised by the preferences of the bride and groom, and some wedding cake flavours are even made with sugar substitutes. There's also a greater variety of wedding cake flavours available than regular cake because many couples choose different flavours for their wedding and boxed cake.