To say that weddings on the beach are in high demand is an understatement. With stunning scenery, lovely sand and unlimited possibilities for wedding photography, beach weddings are hard to beat. From secluded coves to lively fishing villages, there's a perfect venue for your nuptials just waiting for you to find them. And if you're looking for a more traditional setting, some of the best beach weddings are held at luxury resorts that offer stunning water views. Whether you want an intimate ceremony or an all-out wedding party, the right beach wedding location will make your day unforgettable!
What is a Beach Wedding Reception?
A beach wedding reception can be a great way to celebrate your marriage and enjoy the beautiful surroundings of the beach. It's also a great opportunity to show off your decorating skills and create a unique atmosphere for guests. A beach wedding reception allows couples to celebrate their love outdoors with family and friends. This is perfect for intimate gatherings of close friends and family members. Beach weddings are more affordable than other types of reception.
The Cost: How Much Does it Cost to Have a Beach Wedding Reception?
When planning your beach wedding reception, there are a few things to keep in mind. The cost of having a ceremony and reception on the beach varies depending on where you live. However, common costs include rentals (chairs, umbrellas, tents), food and beverage, flowers, venue, and wedding cake. In the U.K., for example, The Daily Telegraph reported that a basic beach wedding could cost £2,000 – £6,000. However, with careful planning and budgeting, you can have a beautiful beach wedding without spending a fortune.
What Can You Do To Make Your Reception Unique?
For a beach wedding venue, there are lots of options to consider. Whether you want a simple affair with family and friends or something more elaborate with a dance floor and delicious food, there's a way to make it unique. Here are some wedding ideas to get you started:
Have a white sand wedding ceremony! Get married on the beach in front of all your guests, and have them help you fill up buckets of sand to symbolise your new marriage.
Rent a lifeguard tower! Set up a viewing platform for guests to enjoy while you get married, surrounded by the ocean's waves.
Have an outdoor cocktail wedding celebration! Serve drinks and appetisers out on the beach while enjoying the beautiful sunset.
Create a 'treasure hunt!' Give each couple a treasure chest filled with fun surprises like coupons for local restaurants or swimwear sets. The couples who find all the treasures win prizes!
Set up tents near the water line for your guests to enjoy drinks and snacks while they watch the sunset. This is especially great if you have a smaller crowd – everyone can assemble right next to the ocean without feeling too crowded.
Setting The Scene: How Can You Create The Perfect Beach Wedding Atmosphere?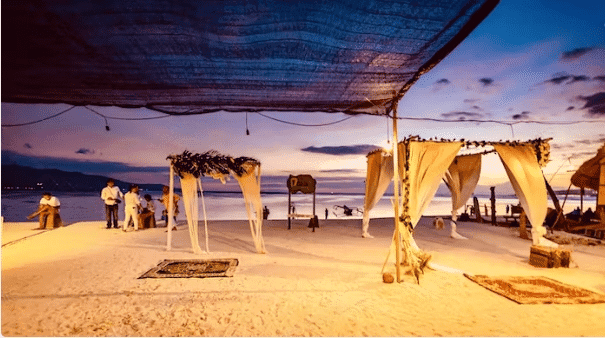 Creating the perfect beach wedding atmosphere can be difficult, but with a bit of planning and some clever touches, you can make your big day truly unforgettable. Here are some tips to help you create the perfect ambience:
Choose a location with beautiful views. A wedding reception venue will give your guests the best view possible while providing plenty of room for dancing and celebrating.
Plan ahead for entertainment. Bring along some music, games, or other activities to keep your guests entertained while they enjoy their drinks and snacks on the beach.
Include plenty of lush greenery in your decor. A few strategically placed palm trees will give your wedding the tropical feel you're looking for.
Consider floral arrangements that evoke the tropics. Hibiscus flowers, lilies, orchids, and bougainvillaea are popular for beach weddings because they look beautiful and smell wonderful too!
Bring in some lighthearted touches to liven up proceedings. From colourful umbrellas to amusing Beach Buddies signs, there's plenty of fun (and laughter) to be had on a sunny beach wedding day!
Reception Ideas: Sample Beach Wedding Reception Themes
When planning your beach wedding, there are many different themes you could choose from. Here are a few examples to get you started:
Pirate Party: Have fun with this theme by having pirates walk the bride and groom down the aisle, serve drinks on the ship, and play pirate music all night!
Romantic Regency Ball: This elegant theme would be perfect for a Victorian or Regency-themed wedding. Decorate with gorgeous flowers, lace curtains, and soft furnishings for a comfortable night under the stars.
Summertime BBQ: Celebrate summertime at your beach wedding with an outdoor barbecue party! This is a great theme for those who love spending time outdoors. Set up tables and chairs in a shady spot, fill up pitchers of cold drinks, and let the fun begin!
Team up with friends and have a pool party theme: Create invitations inviting guests to participate in fun water-based games, or set up a pool table and put on some old-school pool tournaments.
Food and Drink: Tips on Selecting Food and Drinks For a Beach Wedding Reception
When planning a beach wedding, it is important to consider what food and drinks will be served. Here are a few tips to help choose the perfect selections:
Think about the theme of your wedding. Some popular beach wedding themes include surf and turf, island time, and seaside romance. This will help you decide what type of food and drinks to serve.
Consider the guests who will be attending your reception. Some people prefer light appetisers, while others may want heavier dishes. You'll want to cater to everyone's needs without overdoing it.
Make sure to have plenty of variety when it comes to food options. There is no need to serve only traditional wedding fare; mix things up by serving items like barbecue chicken skewers or shrimp cocktail cups.
Think about how many people you'll be serving at your reception. If there are only a few wedding guests, then lighter dishes like salads or hors d'oeuvres may be enough. Heavier foods like sandwiches or main course dinners may be more appropriate if there are more guests.
Consider whether you want alcoholic or non-alcoholic beverages at your reception. Many couples prefer not to have alcohol at their beach wedding, so provide non-alcoholic options.
Conclusion
Beach weddings are a beautiful way to celebrate love. It's fun to have your wedding outdoors and enjoy the sand, sun, and waves.
When planning your beach wedding, check with your local municipality about regulations and etiquette. And remember: it's always important to have a designated wedding planner who can help make your beach wedding dreams come true!
These ideas are also perfect for an intimate wedding with friends and family. These weddings will leave you feeling excited and content, from the sand to the water.
Whether you choose to have a traditional beach wedding ceremony or go for a more playful atmosphere, there is no wrong way to do it. Enjoy your special day, and have perfect wedding photos and videos!
Was this article helpful? Let us know in the comments!
FAQs
What is the best month to have a beach wedding?
There is no definitive answer to this question as everyone's wedding will be different. However, depending on the location, other months may have nicer weather. For example, October in California has beautiful autumn colours and mild weather. Also, March or April are often good months to have weddings near the ocean since the water is warmer then. The best month to have a beach wedding is typically in the summertime, when the weather is warm, and there's not much rain.
What time should a beach wedding start?
When planning a beach wedding, many couples choose to have their ceremony start at either 10 a.m. or 11 a.m. to avoid the busiest times on the beach. However, this time is not set in stone and can vary depending on the location of your wedding and the season. In general, it is always safer to err on the side of caution and start your wedding early in case there are any delays or traffic problems.
Are beach weddings cheaper?
It's no secret that beach weddings are popular. The sand, the sun, and the ocean make for a picturesque backdrop. But is it cheaper to have a beach wedding? According to some reports, the answer is yes. Here are three reasons why:
1) Beach weddings can be decorated simply with flowers and driftwood. You won't need to spend a fortune on decorations or hire an expensive photographer.
2) It can often involve fewer formalities than traditional weddings. You can go with a more relaxed vibe, saving you time and money in the long run.
3) Finally, many couples choose to have their wedding at sunset or sunrise – twice a day when the coast is busiest, but rates are still relatively affordable.