Wedding hairstyles are a big part of any special day. They can make a simple ceremony into something that looks like a fashion show and can set the tone for the wedding day. There are many different ways to style your hair for your big day, and you don't have to stick with traditional wedding hairstyles. You can go for something more daring or classic, depending on what you think will look best on you.
Most Popular Asian Wedding Hairstyles
Here are some of the most popular Asian wedding hairstyles:
Fishtail braided side bun
Wedding hairstyles can be as individual and unique as the couple getting married themselves. That being said, some general styles popular among Asian brides include fishtail braided side bun hairstyles. The fishtail braided side bun is versatile. You can style it any way you want and wear it loose or tight, curly or straight. This type of bun is made by taking two sections of hair at the nape of the neck and braiding them together, then adding a fishtail twist to each end. The result is a pretty and feminine look that's perfect for an Asian wedding.
Bouffant bun
The bouffant bun has quickly become one of the favourite Asian wedding hairstyles. It is perfect for those who want to look elegant and graceful. Here are some reasons why you should go for a bouffant bun at your upcoming wedding:
The bouffant bun is flattering on most face shapes. It will slim down your face and give it an air of elegance.
It can be styled in many ways, making it versatile for any occasion or outfit. You can wear it with a simple dress or a more elaborate gown.
This is easy to create and requires little time to style. All you need is a hair elastic band and hair pins to get started.
Messy, floral chignon
Wedding season is here, and that means one thing: weddings! It would be a shame for all pretty dresses, decorations, and delicious foods to waste because no one knows how to rock a chic chignon like an Asian woman. You can take any outfit from day to night. A simple white dress paired with a floral chignon is perfect for daytime festivities, but it can easily turn into something more evening appropriate if you add some jewels or a clutch at the night's end. A flowery chignon can be worn straight or curled up for added volume and body. No matter your style, there's a style that will work well with this hairstyle.
Neat buns with rolled strands
Wedding hairstyles for Asian women can be very intricate and beautiful. They typically have a neat bun with rolled strands, which is perfect for an Asian wedding. It's easy to do, and anyone can put together a simple bun with rolled strands in minutes. This hairstyle is sophisticated and elegant. With its simple look, this hairstyle can give your wedding photos that elevated edge they need to stand out from the rest. Another thing, you can change the style of your bun any time you want, depending on what outfit you're wearing that day. This will look great on long hair brides. Whether you have thick or thin hair, this hairstyle will look great on you!
Curls fall free
Asian weddings are a beautiful and unique event that can be enhanced by choosing bride hairstyles unique to the culture. Curls are perfect for this type of wedding, as they are versatile and can be styled in many different ways. Curls offer an advantage when it comes to making your hair look longer. They can be styled into waves or curls, which gives you the appearance of having more length than you do. This is perfect if you want to wear a shorter sheath dress or if you want to keep your hair down during ceremonies.
Waves with a flower tiara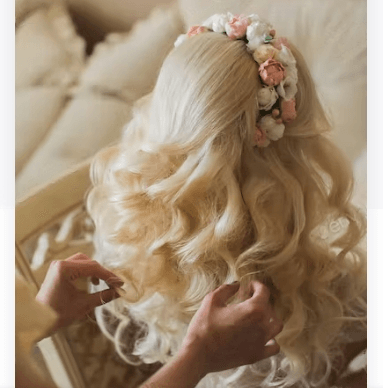 Asian weddings are often full of bright and colourful flowers, making the bride's hair a key part of the look. The tiara flower wave hairstyle is perfect for showing off those vibrant blooms while still looking elegant and beautiful on your special day. The tiara flower wave hairstyle is a very versatile style that can be styled in many different ways. You can wear it straight or curly, thick or thin, long or short. This hairstyle adds an extra element of glamour and elegance to your wedding day. It's perfect for showing off your beautiful floral dress. Lastly, this wedding hairstyle is a great way to show off your personality and unique style.
Short bob
Short bob hairstyles are popular among Asians because they offer several advantages over traditional long hairstyles. First, short bob hairstyles are easy to maintain – just keep them trimmed and styled. Second, short bob hairstyles look great on all skin tones, so they can be worn by anyone who wants to look fashionable and chic. Finally, short bob hairstyles are perfect for weddings because they're versatile and can be dressed up or down depending on the occasion. So if you're looking for a trendy new wedding hairstyle that will look great on you, check out some of our favourite short bob styles!
Ponytail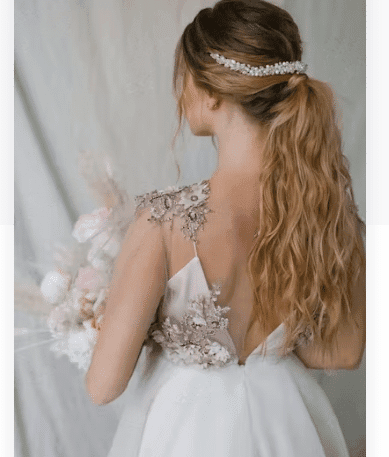 Asian weddings are often characterised by formal wear and styles that require hair to be styled into a specific style. One popular hairstyle for Asian weddings is the ponytail. The sleek, polished look of a ponytail can help you stand out from the crowd. A ponytail is comfortable, doesn't require special styling tools or products, and is easy to maintain. This style can be worn in various ways, and it can be in a high ponytail, showing off the bride's long hair. However, this is not just for long hair brides; brides with short hair can also have this hairstyle with the help of hair extensions.
Conclusion
There are many different wedding hairstyles to choose from, so find the style that best suits your and the bride and groom's personalities.
Finding one that will look great on your wedding day and make you feel beautiful is important. Have fun with it, and be creative!
Whether you want a sleek, modern look or something more traditional, there is sure to be a style that will suit your personality and wedding day theme. Some of the most popular Asian wedding hairstyles include a bun, a braid, an up-do, and a side bun.
Here are some tips to help you choose the perfect Asian wedding hairstyles: Start by assessing your face shape and hair texture. Remember that different styles will be more or less suitable depending on your particular features.
You should consider your hair length and thickness. Short hair will require a different style than long hair, for example.
Finally, think about what you want your wedding hairstyle to say about you.
Was this article helpful? Let us know in the comments!
FAQs
What is the most popular style of bridal makeup for Asian brides?
Asian brides prefer a more natural look regarding their wedding makeup. This often includes lighter foundations, blush, and bronzer. They also like to use less eye shadow, opting for a wash of colour on the eyelids or just a dot of shimmery eye shadow. To add drama and depth to their eyes, they may employ false lashes or use kohl as an eyeliner. Pearls or other gemstones can be added to hair pins, headbands, and other accessories for an extra touch of glamour.
What are the most popular bridal hairstyles for Asian brides?
Asian brides are often petite and have delicate hair that needs careful styling. Here are the most popular bridal hairstyle for Asian brides:
Waved or curly hair: This style is a classic choice for Asian brides with curly or wavy hair. The waves can be created using a curling iron, hot rollers, or a waving wand.
Short bob: Another classic look for Asian brides is the short bob. This hairstyle is easy to achieve and can be styled in many different ways, such as swept back with curls or left straight.
Ponytail: A simple but versatile option is to keep your hair in a ponytail throughout the wedding day.
What is a bridal hairstyle suitable for an off-shoulder wedding dress?
When choosing a hairstyle for your wedding, be sure to take into account the dress you will be wearing. Many off-shoulder wedding dresses are designed to show off the shoulder straps and should be styled with a low bun or cascading waterfall-style hair. Other bridal hairstyles that are perfect for an off-shoulder wedding dress include a twisted up-do or sleek ponytail. Once you have chosen your hairstyle, practice in advance to look your best on your big day!