Wedding caterers are a big part of the wedding industry and have been around for centuries. They serve different food and drinks to the guests during the wedding ceremony. This article offers a breakdown of how much caterers typically charge for weddings.
Who Is A Wedding Caterer?
A wedding caterer is a catering service specializing in planning and organizing wedding events. A typical caterer will also arrange linens, china, silverware, table centrepieces, and other items.
The bride and groom typically hire a caterer to provide food, drinks, and services for the wedding party. The caterer also handles all aspects of the wedding, such as providing decorations and coordinating with florists.
Importance Of A Wedding Caterer
A wedding is a special occasion that can be both emotional and exciting. It is a time when friends and family come together to celebrate the love of two people. A wedding caterer is an important part of this celebration as they provide food and drinks for the guests.
A wedding caterer can help plan the perfect menu by guiding what kind of food to serve, what catering style works best, and how much food should be served per guest number. They are also responsible for creating a beautiful atmosphere for your guests by decorating the venue with flowers and other decorations.
4 Common Types Of Wedding Catering
Wedding catering is the food and beverage service at a wedding ceremony or reception. It includes serving hors d'oeuvres, drinks, and desserts like wedding cakes. Wedding catering is usually provided by a professional caterer or banquet hall.
The most common types of wedding catering are:
Buffet Style Meal
The buffet style of wedding catering provides guests with various choices and allows them to get creative in the kitchen. This style also lets the bride and groom control their wedding budget.
A buffet-style wedding catering can be set up in many ways. Many couples choose to have an open bar, which allows guests to mix and mingle with each other while enjoying their food.
A La Carte
A la carte catering is a wedding catering that lets the guests decide what they want to eat. This type of catering has become popular because it allows people to enjoy their food without feeling obligated to order something that they don't like.
Plated Meal
Plated is a type of catering that is often seen at weddings. It is a presentation style in which the food is served on an individual plate and placed in front of the guest.
Plated has been around for centuries but became popularized in the mid-20th century. In the 1950s, it was introduced to America by French chef Georges Debride.
It is often seen at weddings because it can be served quickly and easily without using utensils or plates that may get broken during transport or storage.
Set-Up Table Service
The table service option provides guests with an elegant experience by serving food on individual plates placed on each table, which are then passed around for people to help themselves, similar to tapas or hors d'oeuvres at a cocktail party or dinner party.
Qualities Of A Good Caterer
Caterers are the people who make sure that the food is made according to the customer's specifications. They are responsible for ensuring that all the ingredients are available, and they also take care of other details, such as ensuring enough staff to take care of all guests.
The qualities of a good caterer would be their creativity and ability to work with different people. They should be able to work on different types of food with ease, and they should also be able to adapt themselves according to different needs.
Other qualities include:
A caterer should be creative and innovative.
A caterer should be able to work with people well.
A caterer should be able to work under pressure.
A caterer should have a positive attitude.
How Much Does Wedding Catering Cost?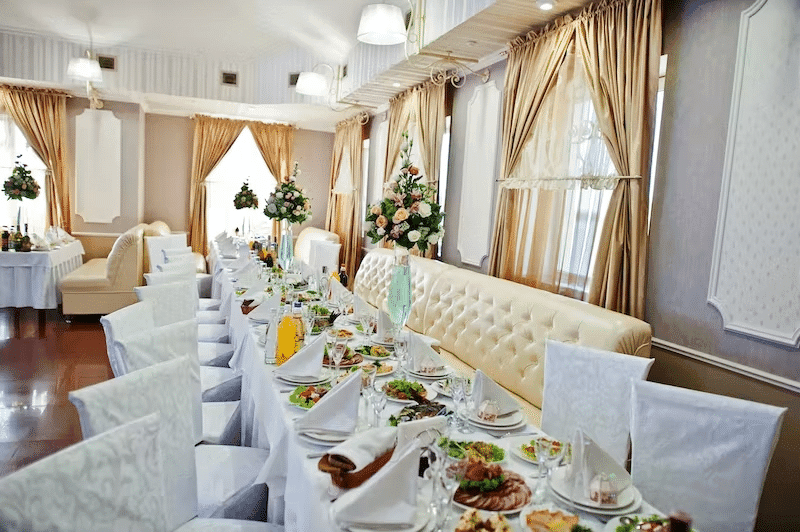 Wedding Caterers are a popular option for catering your event. They usually offer delicious food and sweet service. They are also less expensive than hiring an outside caterer.
The average cost of wedding caterers is $1,000 to $2,000. However, this is just the average cost, and you can expect to pay more or less depending on what kind of services you want and how many guests you have attending your ceremony.
Wedding Caterers can also be hired per hour, which means that they will work with you to ensure that your event runs smoothly and costs as little as possible.
6 Factors That Affect The Cost Of Wedding Catering
The cost of a wedding can be overwhelming for many, especially those on a wedding budget. Some couples may choose between the food and decorations, while others may choose between their venue and the catering staff.
When it comes to catering for weddings, several factors can affect the final cost. These include:
The Number Of Guests
Guest lists can also be used as a cost factor for determining the budget of your event. If you know how many people are coming, then you can determine how much money will be needed for food and other expenses related to the event.
The Wedding Venue
The cost of the wedding venue greatly impacts how much money you need to spend on catering for your wedding. If you plan on hosting an intimate event, you might not need much space or decoration to make your event great. However, if you're planning on hosting a lavish party that requires live music, food stations, and lots of decorations, it might be worth searching for a more expensive venue with more space and amenities.
The Food Service Options You Choose
The cost of the food is one of the most important considerations for many couples looking to give their guests a memorable experience without breaking the bank. Food service options for wedding catering can be a big decision. There are a lot of factors that go into it, such as budget, food allergies, and dietary restrictions.
There are several factors to consider when choosing food service options for your wedding catering: cost, convenience, quality, and flavour.
Budgeting For Alcohol
Alcohol is the most expensive item that one might need during wedding catering. It can strain the budget, and it is important to plan for this cost accordingly.
It is not just about budgeting for alcohol but also about understanding how much alcohol will be consumed and what type of alcohol will be served at the event. The amount of beer, liquor, wine, and champagne should be calculated based on the number of guests attending.
Paying For Dessert
The most important thing in wedding catering is ensuring the food is delicious and well-presented. One way to reduce the cost of your wedding catering without compromising on taste and presentation is by paying for desserts.
Glassware, Flatware, And Linens
Glassware, Flatware, and Linen are three important factors for wedding catering. They are often seen as the most significant cost factors for this type of catering.
Glassware: This is the most expensive component of your catering. You can expect to spend anywhere from $150 to $2,000 on a set of glasses. When considering this cost factor, ensure you are getting the best quality glassware for your money.
Flatware: Flatware can be found in sets at various prices depending on the brand and design. For example, if you want a set of 10 forks with different designs for your wedding party, you will have to spend between $50 and $500 for each set.
Linens: Linen rentals will vary depending on the size of your venue and how many guests you have attending your wedding. You can expect to pay between $100 and $1,000 for linen rentals per day per venue.
2 Money-Saving Tips In Choosing Wedding Caterers
Wedding catering is a major expenditure. So you must save as much money as possible when planning your wedding. Here are some tips to help you save on wedding catering costs:
Be Realistic
It is important to be realistic when it comes to wedding catering. It is not always necessary to go with the most expensive option. The best way to save money on your wedding is by being realistic about what you can afford and want from your wedding reception.
Scale Back On Attendees
The scale-back on attendees money-saving tips in choosing wedding caterers means that guests should not expect too much from their food choices. They should also ensure they are not paying for just a name or reputation but instead an actual meal they will enjoy eating at their wedding reception.
Conclusion
Wedding catering is often a source of stress for many couples. The whole process can be overwhelming and expensive; that's why it's important to remember that you don't have to spend a lot of money on your wedding food because there are plenty of ways to save on it.
Was this article helpful? Let us know in the comments.
FAQs
What is the difference between a banquet and a sit-down dinner?
A banquet is traditional catering in the evening after an event, such as a graduation ceremony or wedding reception. A sit-down dinner can be held any time of day or night, but it's typically served at lunchtime when people have time to eat during their workday.
What are some of the different pricing models for wedding caterers?
There are many different pricing models for wedding caterers. Some cater to large weddings, while others cater to small weddings. Depending on the type of catering you need, you will have to choose a caterer accordingly.
Wedding catering is not just about food but also service and presentation. This means the wedding catering price should reflect these aspects and the number of people attending your event.
Is hiring an outside caterer more expensive than hiring one who owns their own business?
Hiring an outside caterer can be more expensive than hiring one who owns their own business. But, hiring a professional caterer is a good idea if you want your event to go smoothly and be memorable.
The wedding cost of hiring an outside caterer can be expensive. However, in many cases, it is worth the catering cost as they will help your event go smoothly and provide great service.