Add An Eye-Catching Centrepiece For Your Wedding
Buy Our Delicious Cheese Wedding Cake And Add An Elegant And Unique Twist To Your Traditional Wedding Cake
Many couples feel as though the wedding cake isn't their thing. Substitutes like cookies, pies, brownies and doughnuts have appeared on dessert menus to give something a little different.
What if, though, you don't even like sweets?
Cheesecake is the answer.
Many restaurants serve cheesecake as a homemade dessert, a well-liked alternative on dessert menus. 76% of consumers in the UK said they recently ate this dessert.
If traditional cakes aren't your thing or if you adore cheese, amaze your wedding guests with a custom cake constructed from your favourite flavour wheels of cheese.
In keeping with history, our cheese wedding cakes let you add a special touch to your big day while maintaining the tiered wedding cake custom. It's also a great way to share your favourite designs and tastes with your visitors to fill the truckles of your selected design with your preferred flavours of cheddar or even your preferred colours.
Our amazing cheesecakes at Wedding Chiefs are one-of-a-kind and feature selections from a wide range of artisan cheeses that are readily available to us. They taste as wonderful as they look. It doesn't matter if you want to make your wedding an affair to remember or the ideal complement to any party or celebration. We will deliver.
Not only do we provide a highly customised cheesecake service to ensure your wedding or event is the talk of the town, but we don't overcharge. Over the years, we have made and delivered beautiful cheese wedding cakes. We are aware of the best cheeses and how to present them.
Get in touch with us to add flavour to your big day.
Significance Of Cheese Wedding Cake
These cakes are a tower of cheese composed of whole cheeses built with the largest cheese at the bottom to imitate the appearance of a standard-tiered wedding cake.
According to many of the couples we communicate with, a cheese wedding cake served with crackers and chutney makes for the ideal evening meal instead of the traditional buffet.
A tier-style cheesecake has numerous advantages over the sweet variant. Simply said, the price per person for your cheese course or buffet will be considerably less than what most caterers charge. Additionally, you can choose the cheeses to customise the cake and create a lovely, custom design.
Many visitors will have filled their sweet craving if you serve a traditional, sugary cake after the dessert course, so the cake can be left unattended. Cheese has unlimited nip appeal and will endure past your wedding if you don't eat it all at once. Plus, cheese usually tastes better than cake after a few beers.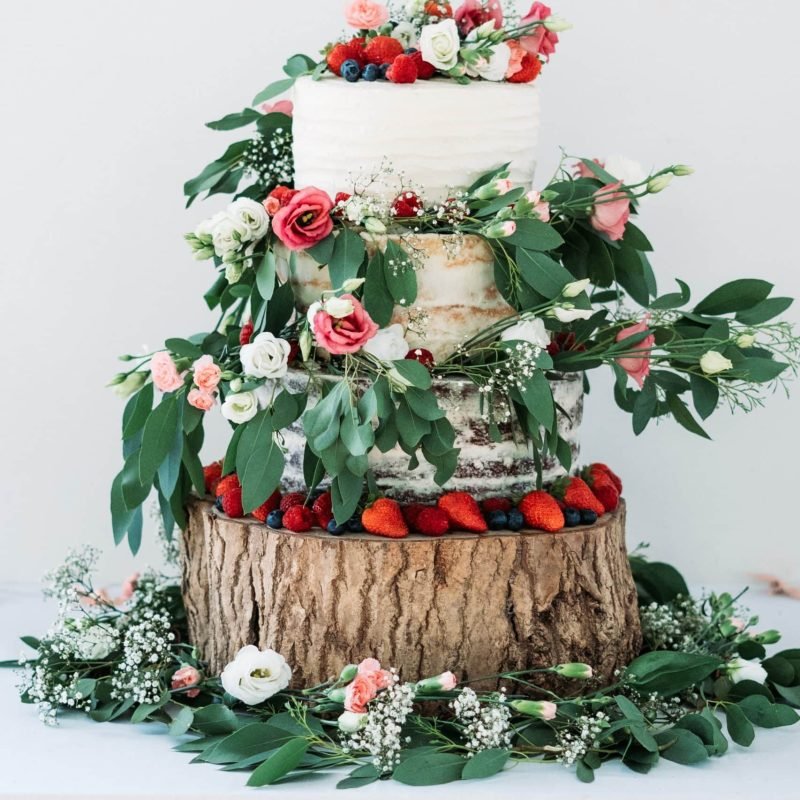 Why Choose Cheese Wedding Cake?
A cheese wedding cake can be a true show-stopper with wine during the reception. It is fantastic for couples who want to add special and unique elements to their wedding but don't want to disregard tradition fully.
When decorated with fresh flowers or whatever else your heart wants, you'll have a gorgeous centrepiece for your big day that's unique. Additionally, cheese is the perfect protein-rich snack item that, when combined with bread or crackers, some delicious chutney, or pickles, will mop up the wine, beer, and other liquids while keeping your energy levels up so you can dance all night.
First off, compared to what many respectable caterers will charge for a cheese course, a cheese wedding cake works out to be substantially less expensive per person. Many individuals don't like classic fruit or sponge cakes. Cake frequently gets unfinished after guests have satisfied their sweet desire with the dessert course, whereas cheese has infinite nip appeal.
Decorate Your Wedding Cake With Cheese To Go With Your Theme
To decorate your cake appropriately, consider the location, style, and theme of your wedding. Your cheeses can be stacked and adorned, so they blend in no matter if you're hosting a romantic country manor affair straight out of a romance novel or a little Boho party in a barn.
You can decorate your cheese wedding cake in various ways to stand out and go well with your overall design. Because they're a good alternative to give a splash of colour, flowers are frequently utilised to improve the cake's appearance.
The flowers can be as basic or elaborate as you like. Consider incorporating your theme and adding finer touches using flowers from your bouquet. Fruit and berries are another common technique to garnish a cheese wheel cake.
The fruit pairs well with various kinds of cheese and provides colour. Finally, consider decorating your cake with ribbons or, if your wedding has a more understated, rustic feel, raffia looks lovely tied around your centrepiece.
Choose The Right Cake With Us
Your once-in-a-lifetime event will be even more special thanks to our delicious artistry accentuating each wedding's theme, colour scheme, and tone. We have remained one of the top wedding cake designers because of our meticulous attention to detail.
Each cake at Wedding Chiefs is made specifically for each customer using only the finest and freshest ingredients, such as imported chocolate, fresh local fruits, and other flavourings. We go above and above to make your day amazing!
Whether the occasion is lavish or private, we like collaborating with couples to realise their creative visions. Every couple receives our famous take-home cake to savour later because the day after is just as special. Nothing compares to enjoying your wedding cake's original flavours in a private setting while relaxing and reflecting.
Contact us today.
Generally, a cheese wedding cake should contain between 80 and 100g for each person. If you want to serve the cake as the centrepiece of the evening buffet, 100g, along with crackers and other fixings, would be great. 80g per guest is a fair guideline if the cheesecake is a component of a bigger meal or buffet.
You don't necessarily need to put anything between the cheeses if you arrange them inside the cake. However, support may be necessary when having cheeses stacked on top of larger, softer cheeses. In this situation, cake dowels similar to traditional cakes can be employed.
Put a piece of wax paper between the layers of cheese if one of them is particularly "wet" or "smelly" to prevent it from contaminating the other cheeses. All our cheeses are packaged in wax paper for this purpose. We can also include more wax paper in your package if you'd prefer that.
The time of day affects this. The cheese will become very warm on a warm summer day, so we advise only setting the cake out an hour before serving. It's generally okay to leave the cheese out on display if the weather is cooler and it's not in direct sunshine.
Mushy cheeses will inevitably become extremely soft and runny if they become too warm. Still, hard cheeses will always hold up better to being left out of the refrigerator for longer periods.