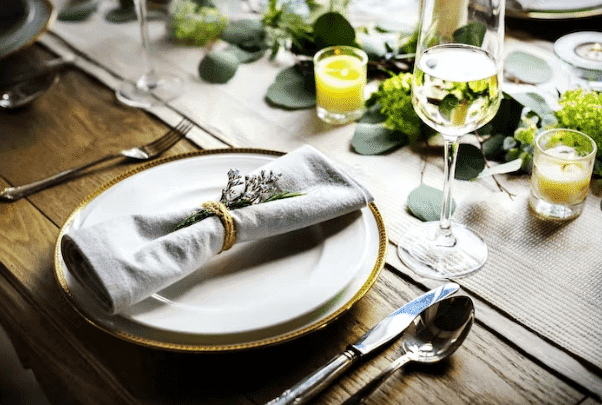 When planning your wedding, it's easy to overlook the reception. A well-organised reception can make all the difference in the success of your wedding success. Make sure your decorations are tasteful and appropriate. You don't want everything in sight – excessive greenery or blinking lights will make guests feel uncomfortable.
List of Best Wedding Decoration
Here are some of the most popular wedding reception decorations that will impress your guests:
Neon Sign and Disco Balls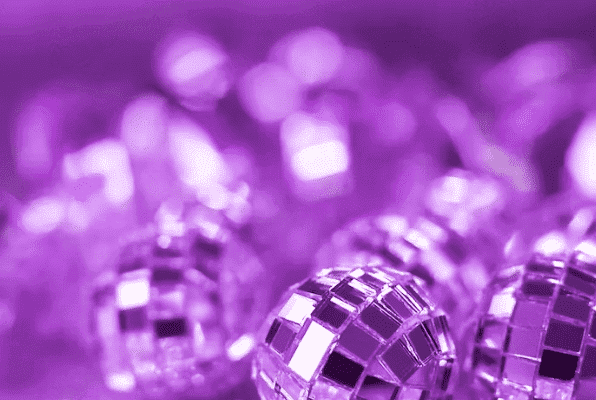 When it comes to wedding reception decoration, neon signs and disco balls stand out as some of the best options. Their unique appearance offers several advantages that can make your wedding more fun and festive.
First of all, neon signs are very eye-catching. They create a bright and colourful atmosphere that will surely get guests' attention. In addition, they come in various shapes and sizes, so you can find one that perfectly fits your wedding theme.
Disco balls also make a great choice for wedding reception decoration. They add an element of fun and excitement to the proceedings, sure to keep everyone entertained. Plus, they come in many different colours and styles so that you can find the perfect one for your event.
Modern Indigo-and-Black Tablescape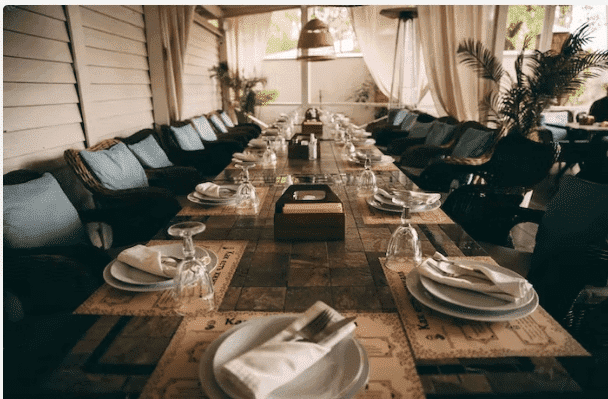 When it comes to wedding reception decoration, a modern indigo-and-black tablescape is the best option. This look is perfect for an elegant and sophisticated affair, and it has several advantages that you should consider. First, this style is very appearance-oriented, so your guests will appreciate the attention to detail. Secondly, this look is versatile – you can use it for any wedding theme or colour palette. Finally, this table setting is affordable – you won't need to spend much money to create a beautiful effect. So if you're looking for a unique and stylish way to show off your wedding decorations, choose a modern indigo-and-black tablescape!
Velvet Chairs and Beaded Chandeliers
When it comes to wedding receptions, the details are key. From the entrance to the dance floor, every nook and cranny should be adorned in a way that adds visual appeal and emphasises the celebration. And what better way to do this than with velvet chairs and beaded chandeliers?
Velvet chairs are classic and elegant, while beaded chandeliers give receptions a touch of luxury. They're both easy to care for – no need for flowers or candles – and they look gorgeous with any wedding theme. Plus, they're perfect for creating an atmosphere of intimacy and romance.
Tall Fuchsia Rose Centerpiece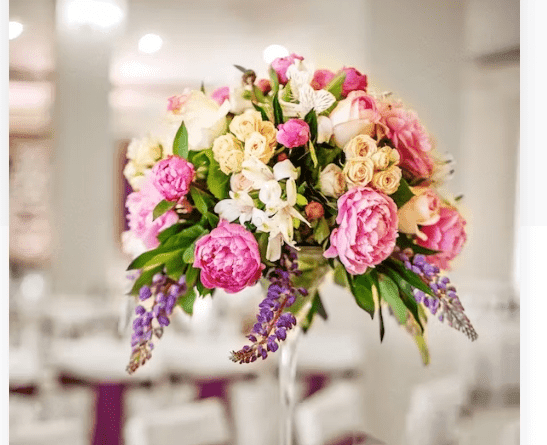 For a wedding reception that impresses, consider placing a tall fuchsia rose centrepiece in the centre of the room. This beautiful flower will add elegance and beauty to any setting, making it an ideal choice for any special day. Not only does this centrepiece look great, but it also has an advantage over other typical wedding reception decorations. Fuchsia roses are long-lasting, meaning they can be used again and again throughout the year without needing to be replaced. This makes them a smart option for weddings that will be remembered for years.
Photo Walls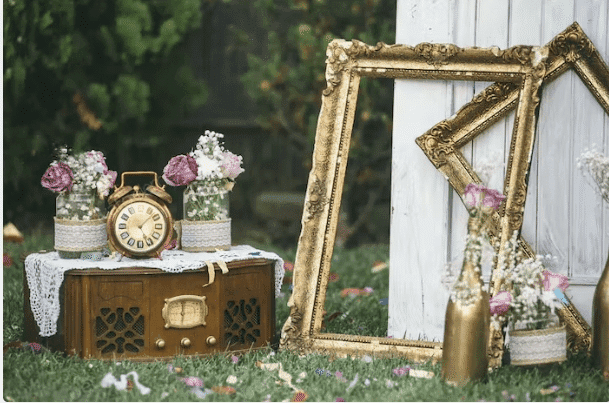 Photo walls are popular wedding reception decorations. They can add a touch of individuality and can be very stylish. There are many reasons why photo walls are a good choice as a wedding reception decoration:
They can add an appearance of uniqueness.
They offer an advantage in that guests can see the entire gallery simultaneously, which is helpful when choosing photos to display.
Photo walls can help guests stay connected with the wedding proceedings.
Suspended Flower Installations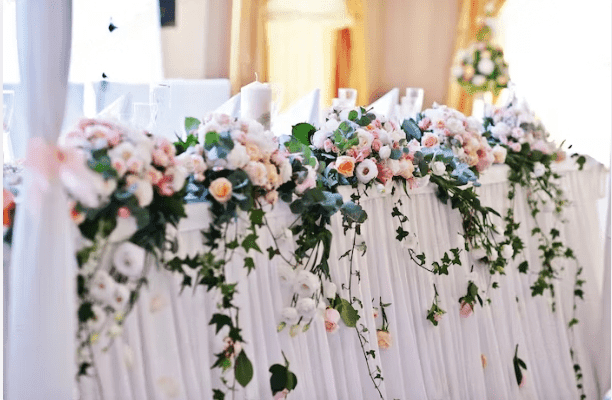 Suspended flower installations are becoming increasingly popular as the best wedding reception accessory. With their elegant appearance and the advantage of changing each season, they are a perfect way to show your personality and reflect your unique wedding style.
They can provide an appearance that is both beautiful and unique. No two weddings will look the same, so you can be sure that your reception will stand out from the rest! Because they are removable, suspended flower installations can be changed depending on the weather or season. This gives you plenty of flexibility regarding what looks best on specific days or during different events in the year. Lastly, they're also relatively easy to set up – all you need is some strong wire and hooks or nails.
Fairy Light Trees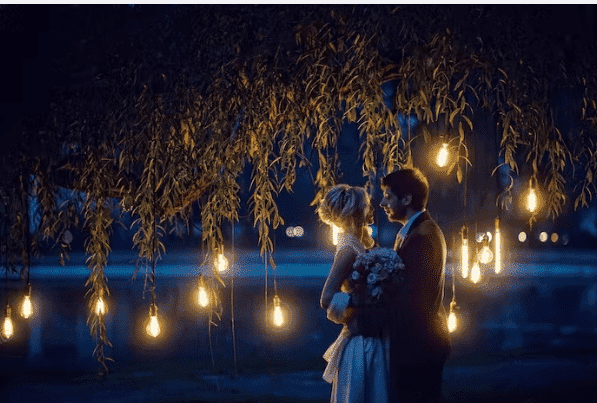 Fairy light trees are a popular wedding reception decoration because they look pretty and have an advantage over other decorations. They're easy to set up and take very little time to prepare. Plus, fairy light trees can be used for multiple events, so you don't have to waste money on one tree that will only be used for one wedding.
When it comes to wedding reception decorations, fairy light trees are always popular. They are small and delicate, making them perfect for decoration at a wedding reception. They also have a pretty glow that will add elegance and beauty to any event.
Rustic Bar
Rustic bars are the perfect wedding reception decoration. They offer an appearance different from any other bar type and have many advantages. The first advantage is that rustic bars are very easy to set up. You can simply attach them to a wall or ceiling. This makes them convenient for the bride and groom, who don't have to worry about organising many extra decorations.
The second advantage of rustic bars is that they can be used in various settings. You can use them as part of a country setting in a barn, or you can use them as part of an urban setting in an abandoned building. They also look great in gardens or on patios. The final advantage is their price.
Conclusion
Wedding reception decorations can be very fun and unique. They can help to make your wedding more special and memorable.
Wedding reception decorations are a way to show your guests that you care about their stay and that you want everything to be perfect. There are so many options available, and your guests will be impressed no matter what you choose.
If you're looking for wedding reception decorations that will set the tone for your event and make guests feel welcome, be sure to explore our wide selection.
Try to find pieces that coordinate well with each other and the wedding theme, and remember that any special touches you put into your decorations can really make a difference in how your guests feel about the event.
Finally, consider including centrepieces, table settings, and thank-you cards to add a layer of personalisation to the celebration.
Was this article helpful? Let us know in the comments!
FAQs
How can I decorate with a limited budget?
There are a few things to remember when decorating with a limited budget. First, you want to stick to neutral colours so the room will look less cluttered. Second, avoid spending money on items that won't be used often. Finally, be creative and save money on furniture and decorations. Here are some tips for decorating with a limited budget:
Try to stick to neutrals when decorating your room with a limited budget. This will make the room look more organised and less cluttered.
Avoid buying expensive furniture or decorations that won't be used often. Instead, purchase cheaper alternatives that will still look good.
Be creative when it comes to saving money on furniture and decorations. For example, try finding deals online or at discount stores.
How should I decorate my wedding reception?
There is no definitive way to decorate your wedding reception, but some basic tips include using vibrant colours and incorporating elements of your wedding theme. You can also choose a more traditional look and use traditional wedding decorations, such as flowers, chandeliers, and linens. Whatever you decide, make sure to take into account the size and shape of your reception space so that everything looks coordinated.
Is it cheaper to decorate your wedding?
There is no one answer to this question, as it depends on various factors, including the type of wedding you are planning and your budget. However, some couples decorate their weddings relatively cheaply by using items they already have in their homes. Others hire professional decorators who can create beautiful displays that conform to specific wedding themes or styles. Whichever option you choose, be sure to consider your budget and preferences before starting your project.